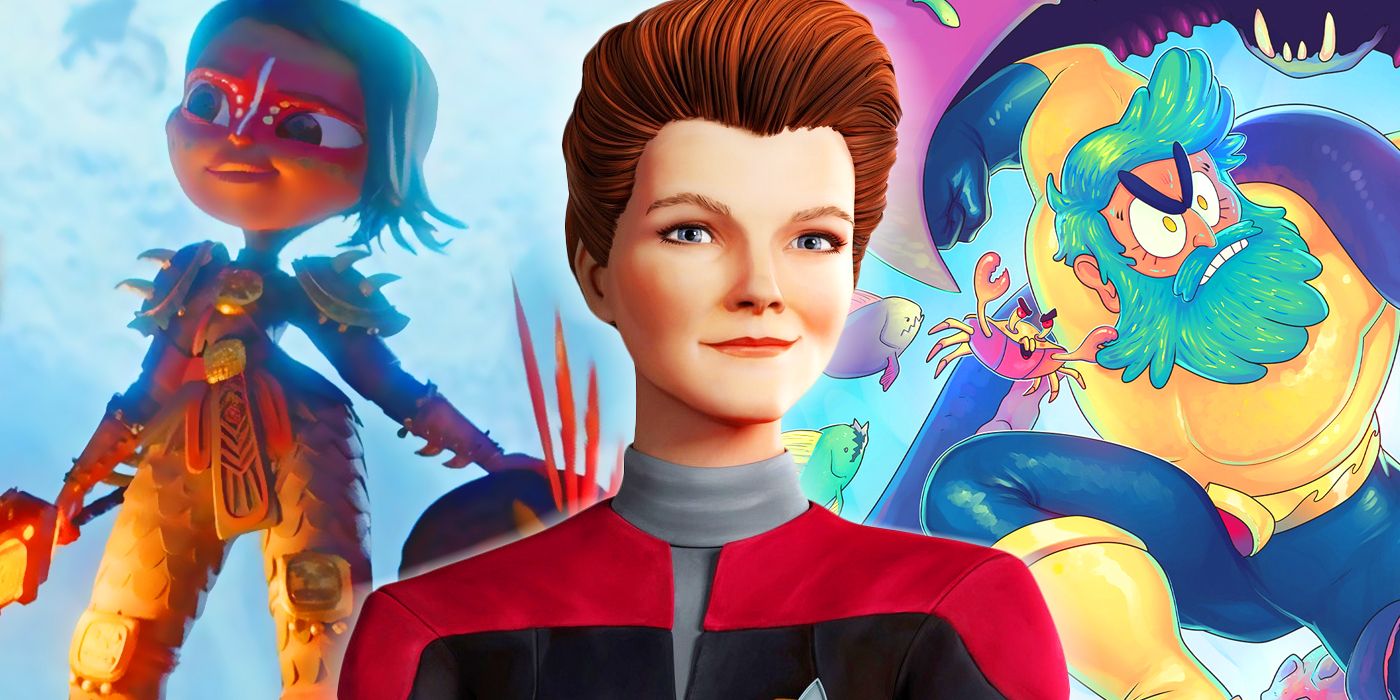 October is a huge month on the anime front, with a new season and dozens of new shows starting in Japan. This October animation highlights preview won't cover the new seasonal anime, which justifies its own preview guides. Instead, we're highlighting six American TV cartoons and two new animated films that have the potential to become fan favorites.
The Ghost and Molly McGee on Disney Channel
The latest Disney Channel animated series, The Ghost and Molly McGee, seeks to deliver a family, spooky comedy this Halloween season. In this buddy comedy, hyper-optimistic Molly McGee finds herself magically bonded to the grumpy, misanthropic ghost, Scratch, and the two end up becoming friends despite their completely opposite goals and perspectives. Each episode consists of two 11-minute segments, with a new song by composer "Shia LaBeouf" Rob Cantor in each episode.
Created by Bill Motz and Bob Roth, The Ghost and Molly McGee stars Ashly Burch and Dana Snyder. The first episode will air on the Disney Channel on October 1 at 9:35 p.m. EST before airing regularly on Saturdays at 9:00 a.m. EST. The first five episodes will be available to stream on Disney + on October 6.
RELATED: Amphibia Announces Season 3 Premiere With Preview Preview
Amphibious Season 3
While Disney Channel hopes The Ghost and Molly McGee will become a new fan favorite, the established favorite Amphibians is entering its third and final season. Following the Season 2 dramatic finale, the final chapter of the Daytime Emmy nominated series finds Anne and her frog friends, the Plantars, leaving Amphibia behind and living in Los Angeles. Among other highlights, Season 3 will feature a Christmas special with an original song by Steven Universe designer Rebecca Sugar.
Created and produced by Matt Braly, Amphibia Season 3 premieres October 3, 2021 at 9:30 a.m. EST, with new episodes airing every Saturday through November 27. Amphibia seasons 1 and 2 are currently available to stream on Disney +.
Brilliant: samurai soul
David Ayer's urban fantasy film Shiny has been widely watched, but almost as widely hated. Netflix's ambitions for chasing algorithms and building franchises somehow led to the production of a CG anime prequel set in feudal Japan. Brilliant: samurai soul is a film that many would say doesn't need to exist, but with the talents of director Kyohei Ishiguro (Words bubble like soda pop) and screenwriter Michiko Yokote (Cowboy Bebop), there is a good chance that it will end up better than it is allowed to be.
Directed by Kyohei Ishiguro, Bright: Samurai Sword premieres on Netflix on October 12.
Aquaman: King of Atlantis
The three-part mini-series Aquaman: King of Atlantis has already become controversial before its release due to its wacky style, coming from the same designers as the equally wacky and controversial Roar of the Thundercats. If any of DC's main superheroes deserve this silly treatment, it's the guy who can talk to the fish, and with the Aquaman With director James Wan involved as executive producer, there's reason to be confident this HBO Max original – which will also air on Cartoon Network at some point – will be having a good time.
Created by Victor Courtright and Marly Halpern-Graser, Aquaman: King of Atlantis stars Cooper Andrews in Aquaman, Gillian Jacobs in Meera, Thomas Lennon in Vulko, and Dana Snyder in Ocean Master. A one-hour episode will air weekly on HBO Max from October 14-28.
RELATED: Aquaman: King of Atlantis Trailer Launches Unique Version of the DC Hero
Interior work
Netflix's new adult animated comedy Interior work dares to ask the question: "What if all the conspiracy theories were real?" Okay, probably not all conspiracy theory (conspiracy theories have become particularly frightening and dangerous in recent years), but every plot that is stupid and relatively harmless enough to make the cut for X files, at least. A workplace comedy about shadow government can be hard to pull off without getting trapped in today's toxic rhetoric, but if anyone can make it happen, it's Gravity falls writers Shion Takeuchi and Alex Hirsch.
Created by Shion Takeuchi and produced by Alex Hirsch, Inside Job stars Lizzy Caplan, Bobby Lee, Brett Gelman, Clark Duke, John DiMaggio, Tisha Campbell and Christian Slater and premieres on Netflix on October 22.
Maya and the Three
The same day as Interior work Claims to be Netflix's next big adult animation hit, the streaming service is also premiering Maya and the Three, one of his most ambitious family projects. In this nine-episode miniseries featuring cinematic CG animation, a Mesoamerican Warrior Princess embarks on a quest to recruit three legendary heroes in the hopes of saving humanity from the vengeful gods. Zoe Saldaña plays the titular princess, leading a voice cast consisting of Diego Luna, Gabriel Iglesias, Danny Trejo, Cheech Marin and Alfred Molina, among others.
Created by Jorge R. Gutiérrez, Maya and the First Three on Netflix on October 22.
Ron went wrong
Ron went wrong is the debut film by new British studio Locksmith Animation, released by Disney's 20th Century Studios. Set in a future where every child has a "B-bot" companion, it follows the story of a boy named Barney whose B-bot Ron still malfunctions. The trailer doesn't look like the most original family movie – coming in the shadow of the same theme and exceptionally awesome The Mitchells against the Machines – but a new studio deserves a fair chance, and at least some of the gags are fun.
Directed by Jean-Philippe Vine and Sarah Smith, Ron's Gone Wrong stars Zach Galifianakis, Jack Dylan Grazer, Olivia Colman, Ed Helms, Justice Smith and Rob Delaney and hits theaters on October 22.
Star Trek: Prodigy
The second Star Trek animated series premiering on Paramount +, after adult comedy Star Trek: Lower Bridges, Nickelodeon produces Star Trek: Prodigy features a 3D animated, kid-friendly version of the beloved sci-fi franchise. Located after the events of Star Trek: Voyager, the series follows a group of young aliens who take control of an abandoned Starfleet ship. The show is created by the Hageman brothers, who were previously screenwriters for Guillermo Del Toro Troll Hunters: Tales of Arcadia.
Created by Kevin and Dan Hageman, Star Trek: Prodigy stars Kate Mulgrew as Kathryn Janeway, Rylee Alazraqui as Rok-Tahk, Brett Gray as Dal, Angus Imrie as Zero, Jason Mantzoukas as Jankom Pog, Ella Purnell as Gwyn and Dee Bradley Baker as Murf. The series premieres October 28 on Paramount +.
KEEP READING: Star Trek: Prodigy Trailer, Story & News You Should Know
Salem's Lot chooses Game of Thrones actor in pivotal role
About the Author