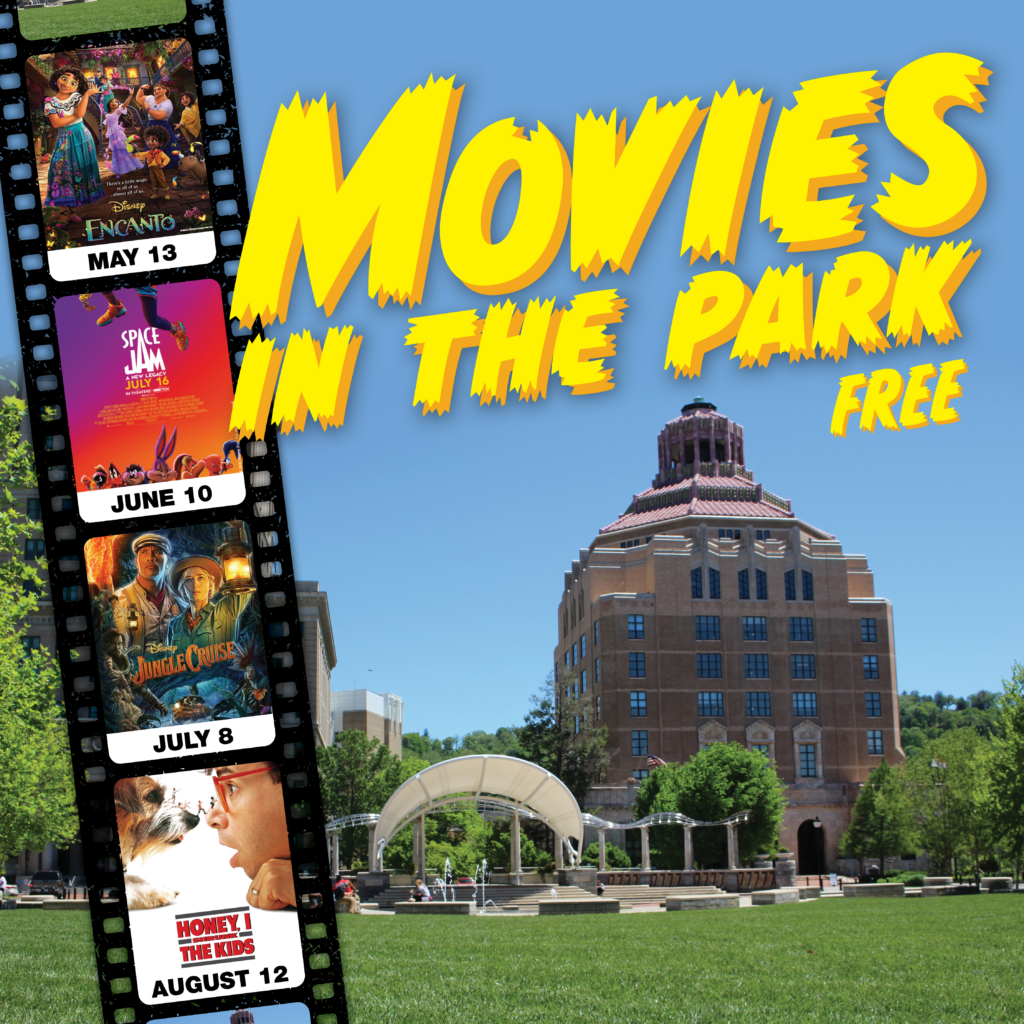 Asheville Parks & Recreation offers free movies under the stars at Pack Square Park
A tradition for many mountain families returns to Pack Square Park on Friday 13 May.
Asheville Parks & Recreation's popular Movies in the Park series kicks off its 2022 season with a screening of Encanto. Community members are encouraged to bring blankets, lawn chairs and snacks for the free viewing, which begins at dusk. Prior to the screening, the Rec n Roll Play Zone opens at 7 p.m. with games, giveaways, and other activities for kids and teens. Additional movies are scheduled for the second Friday of the month throughout the summer.
"Friday night movies are a popular pastime and it's bringing people out of their homes to enjoy fan favorites on the big screen with a spectacular backdrop – the artfully decorated exterior of the hotel from flanked by soaring mountains and a night sky full of stars," according to Nikki Cales, coordinator of Movies in the Park. "We're thrilled to offer this free movie series to people who want to spend time together outdoors."
If you are going to
All movies begin at dusk at Pack Square Park on 80 Court Plaza in downtown Asheville.
Rec n Roll Fun Zone lineup begins at 7 p.m.
Pets, smoking and alcohol are prohibited.
Free parking is available in marked spaces on city streets and in city-owned lots on Marjorie Street after 6 p.m.
Films in the park's 2022 programming:
May 13: Encanto (rated PG for some thematic elements)
-The Madrigals are an extraordinary family who live hidden in the mountains of Colombia in an enchanted place called the Encanto. The magic of the Encanto blessed each child in the family with a unique gift – each child except Mirabel. However, she may soon be the Madrigals' last hope when she discovers that the magic surrounding the Encanto is now in jeopardy.
June 10: Space Jam: A New Legacy (rated PG for some cartoon language and violence)
– When LeBron James and his young son Dom are trapped in digital space by a rogue AI, LeBron must get them home safely by leading Bugs, Lola Bunny and the entire gang of notoriously unruly Looney Tunes to victory over the digitized AI champions on the court: a roster of pro basketball stars like you've never seen them before. It's Tunes vs. Goons in the biggest challenge of his life, one that will redefine LeBron's bond with his son and shine a light on the power of being yourself.
July 8: Jungle cruise (rated PG-13 for adventure violence)
– Take a thrilling ride down the Amazon with crafty skipper Frank Wolff and intrepid researcher Dr Lily Houghton. Lily travels from London, England to the Amazon jungle and enlists the dubious services of Frank to guide her downstream on La Quila, his ramshackle but charming boat. Lily is determined to discover an ancient tree with unparalleled healing abilities, possessing the power to change the future of medicine. Pushed together on this epic quest, the unlikely duo encounter countless dangers and supernatural forces, all hidden within the deceptive beauty of the lush rainforest. But as the secrets of the Lost Tree unfold, the stakes get even higher for Lily and Frank, and their fates – and those of humanity – hang in the balance.
August 12: Honey, I shrunk the kids (PG rated)
– When kids sneak into inventor Wayne Szalinski's upstairs lab to retrieve a stray baseball, his experimental shrink ray miniaturizes them. When Szalinski returns home, he destroys the device – which he thinks is a failure – and throws it in the trash, throwing the children with it. The four children, now 1/4 inch tall, must survive the trip home through a yard where sprinklers cause treacherous storms and garden ants scurry around like elephants.
Asheville Parks and Recreation
Established in 1954, the Asheville Parks and Recreation Department manages a unique collection of more than 65 public parks, playgrounds and open spaces throughout the city in a system that also includes comprehensive recreation centers, swimming pools, the Riverside Cemetery, sports fields and courts, and community centers that provide a variety of wellness, educational, and cultural programs for Ashevillians of all ages. With 8 miles of paved greenways and numerous natural surface trails, its comprehensive portfolio acts as the foundation of a vibrant center allowing Asheville residents to connect with their neighbors and explore a city's natural beauty. habitable and pedestrian.
Driven by the promise that Asheville is a better, safer place where everyone, from infants to retirees, has the opportunity to be supported, healthy and prosperous, Asheville Parks & Recreation was the first municipal recreation service nationally accredited in the United States. For the latest updates, follow the department on Facebook @aprca and Instagram @ashevilleparksandrecreation or visit www.ashevillenc.gov/parks.