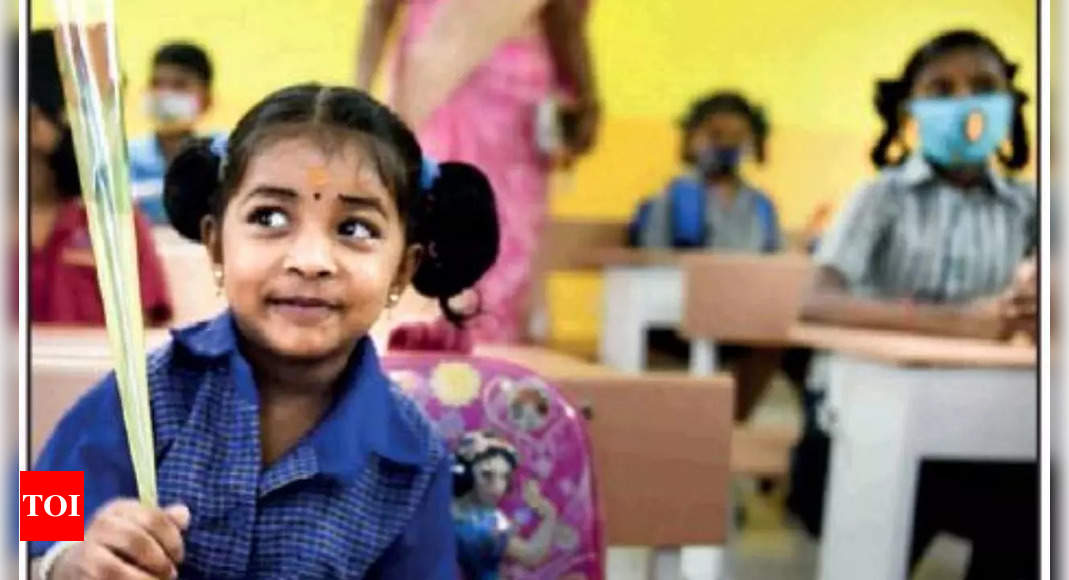 [ad_1]
CHENNAI: As a crore of students returned to school across Tamil Nadu for the first time in more than 500 days, Monday was celebrated with fanfare as teachers and school management lined up to welcome children with their efforts ranging from music to gifts to floral showers.
Some of the staff even dressed up as cartoon characters to greet the students.
The lonely spectacle that the city's roads had lacked for the past 18 months – of parents carrying uniformed pupils to school – was back on Monday. A run-of-the-mill spectacle at all times, the return of students to schools after losing a school year due to the pandemic break has been celebrated by teachers at various schools in the city and state.
From the parents' point of view, many believe this is a step forward despite the fear of Covid. "Learning in the classroom is important for improving the social skills of our children. With both parents working from home, it was difficult to manage the online classes and the children also became addicted to gadgets, "said S Keerthi, parent of a 7-year-old.
For the students, back to school is also an opportunity to meet their friends after a long period and doing so with a warm welcome was a plus.
"I was very happy to meet my friend Dharika and my teachers after two years," said Chitrakshri Sharma, a class 3 student from Nungambakkam.
The teachers also kept the light on the first day and went out of their way to make going back to school a happy experience.
"I would say Diwali arrived three days early for us. The teaching staff are also delighted because we have activities planned for the next few days and there will be no homework for the first few days, "said K Vijayalakshmi, teacher at the MGR Nagar public upper secondary school.
Grishma Davey, Secondary School Teacher and Primary Section Coordinator, Vidyodaya Girls Higher Secondary School in T Nagar; said that seeing children's faces after a long time gave them (teachers) a new kind of energy.
The percentage of absentees was also lower, according to teachers, ToI also spoke, which overall indicated a positive sign for parents to send their wards to school.
"Most of the students went back to school on the first day. Parents and students are happy to go back to school. We even had four new admissions on Monday, "said MM Ramalakshmi, director of the presidential government's upper secondary school for girls.
With schools allowed to reopen for all students in Grades I through XII, approximately one crore of students will return to schools across the state. To maintain social distance, schools divided their classes into two groups and asked students to attend classes every other day.
[ad_2]