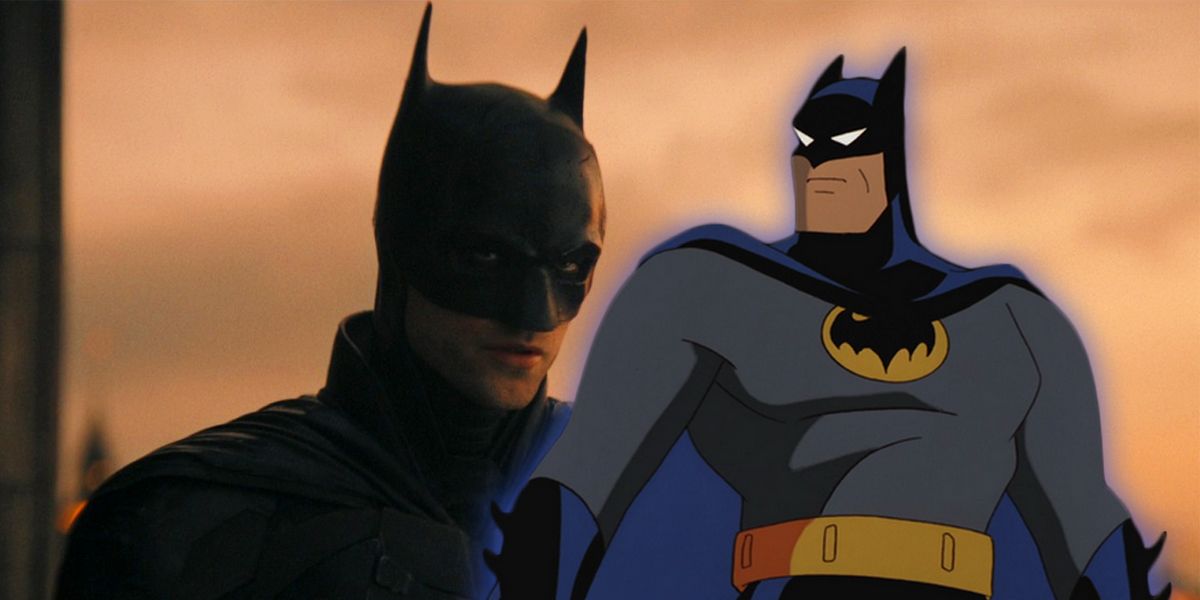 A new action figure from The Batman features one of the most iconic lines from voice actor Kevin Conroy's time as the Dark Knight.
A new The Batman toy reveals Robert Pattinson's Dark Knight borrowed from Batman: The Animated Series again.
YouTuber Raphael Cejaman has posted an unboxing video for a 12-inch "Wingsuit Batman" figure created by Spinmaster, demonstrating some of its features, like the wing extension and sound effects. Among these voice sounds, which can be activated by pressing Batman's chest plate, is the phrase "I am the night", a phrase famously uttered by Batman voice actor Kevin Conroy. Other notable quotes from the figure include "I fight for justice" and "Riddler, beware".
RELATED: Batman's Ben Affleck Explains Why He Quit Directing DCEU Movie
Batman's phrase "I am the night" finds its origin in the Batman: The Animated Series episode "Nothing to Fear", where, faced with a gassy aberration of fear from his father, Batman overcomes his insecurity by stating "I am Revenge. I am the Night. I am Batman." It has since become one of Conroy's most recognizable Batman lines over his nearly 30-year career voicing the Caped Crusader, even reusing it during the 2015 climax. Batman: Arkham Knight video game. This is the second instance Pattinson's Batman has referenced Conroy's quote since. The Batman's original trailer, in which the hero, questioned by a group of goons about his identity, mercilessly beats up one of their members before declaring "I am vengeful".
Newly Released The Batman the footage not only provided a more in-depth look at Pattinson as a DC superhero and his alter ego Bruce Wayne, but also at Batman's rogues gallery. These include Zoë Kravitz's Catwoman, Paul Dano's Riddler and Colin Farrell's Penguin, with all three characters returning to the big screen after their last appearance in The dark knight rises, batman forever and Return of Batman, respectively.
RELATED: The Official Batman Rating Has Fans Debating 'Limits' Of PG-13 Movies
Meanwhile, Conroy will reprise his role as Batman once again for an upcoming Batman: The Animated Series audio drama written by series veteran Alan Burnett. Its DCAU incarnation has also seen a number of comic book sequels recently, including Batman: The Adventure Continues, which picks up Batman: The Animated Series/The New Adventures of Batman abandoned, and Justice League Infinity, a follow-up until the end of Justice League Unlimited. Furthermore, Batman: The Animated Series co-creator Bruce Timm announced last year that he, JJ Abrams and The BatmanMatt Reeves will produce the HBO Max animated series Batman: Crusader Caped, which they described as a return to "Batman's dark roots".
The Batman hits theaters March 4 and HBO Max April 19
KEEP READING: Batman Scribe Ed Brubaker Boards Caped Crusader Animated Series
Source: YouTube
Spider-Man's Andrew Garfield Lied to Emma Stone About No Way Home Return
About the Author