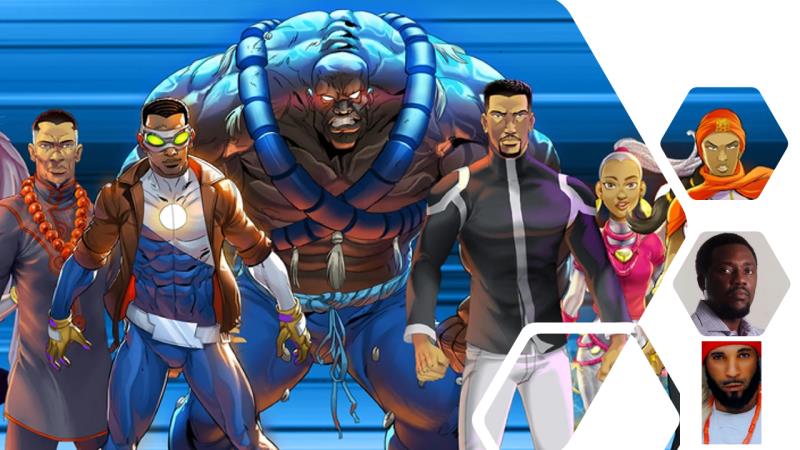 Meet Martin Okonkwo, the founder of Vintage comics. The studio aims not only to tell African stories, but to do so in a way that is authentic, moral and healthy for the world, and to inspire a new generation to overcome negative stereotypes and embrace diversity and strong values.
Martin shared his intention to take the African comics industry to the next level and pave the way for a new genre of entertainment, similar to what the Japanese have done with manga and anime.
Martin is a multi-talented, multi-award winning illustrator, graphic designer and comic book artist. He has twice won Nigerian Comic Artist of the Year, at the Lagos Comic Convention FIST Awards in 2017 and 2018 respectively for his work in AEGIS #3 and AEGIS #4. His works have been hosted on several local and international platforms such as Comixology, Amazon, and Comikly, and he has also been featured on comic book blogs such as Bleeding Cool, SquidMag, and Comic Panel. His advertising artwork has made its way to prestigious advertising websites like AD-Week, Ads of the World and Lurzer's Archives. His comic book brand received a large audience and sales both online and offline. Epoch has featured in several editions of Lagos Comic con and most recently at Toronto Comic-Con in Canada.
1. Tell us about yourself – what got you into creating comics and starting your studio, Epoch Comics?
"I'm a major comic book chef. I've always enjoyed telling stories using a variety of visual mediums, but comics have proven to be the most compelling to me. I have been actively drawing comics since I was 5 years old. I got all my inspiration from DC and Marvel comics and then Saturday morning cartoons.

"As a child, growing up in Nigeria in the 80s, I didn't have access to 24-hour cartoon channels like kids today, I also didn't have access to comic stores, but I took full advantage of what was available at the time. I read and re-read all the comics I could get my hands on, and then watched and re-watched the cartoon series. These were a vital part of my training in as an artist, I would draw for hours and hours, sometimes avoiding food.

"Then came the era of video games in the early 90s and I was beyond thrilled to be able to play with some of my favorite characters. Games further expanded my imagination of what was possible in this kind of entertainment."

"My early efforts to create comics were more of a hobby and a favorite pastime because I only drew for fun and the love of the craft, but I found that my friends were amazed by the stories I I would tell and the characters that I created. They would gather around my desk after school, and I would draw comics until evening while they watched in wonder.

"Because my reference was only from foreign comics, shows, and games, none of my main characters were African or of African descent. They were almost 100% white Caucasian."

"I quickly got to the point after high school where I began to intentionally seek to tell stories based on my culture, folklore, and traditional mythology, but my only reference was the oral histories passed down from our parents and grandparents. -parents in the village. I started exploring our history and culture as comics and that was the beginning of the journey to Epoch Comics."

"My comics at this point featured characters from indigenous and ethnic backgrounds. At first, I focused primarily on the superhero genre, although there were still a few personal titles inspired by video games and comics. manga that I created. Then I started to have a certain fascination with the supernatural, and that became the foundation of most of our titles today."

"I co-founded the Epoch Comics brand with my close friend, writer, and classmate Chika Ezeabiama, and today we're still going strong, even as the team has grown."
2. Which comics, writers and artists were your favorites growing up and also your inspirations?
"As I mentioned earlier, my first inspiration was Marvel and DC, but over time other studios emerged, like Image, Darkhorse, and TopCow, and of course, very popular non-American comics like Obelix and Asterix also dominated my creative journey – comics like Superman, Batman, X-Men, Justice League and Avengers were particularly my favorites."

"Writers/artists like John Byrne on Superman, Joe Madureira on Spiderman, Jim Lee on Bat Man, Alex Ross/Mark Waid on Kingdom Come, and Goscinni and Ordezo on Asterix and Obelix should be some of my biggest inspirations to date. Unfortunately, I didn't have any role models in the comics locally and had to chart this cause on my own.
3. What is your vision of Epoch?
"Inspiring and transforming lives through our entertainment model. To be a go-to source for the next generation of comic book creators and to provide the world with an alternative and healthy model of comic book entertainment."

"We also seek to put Africa on the comic map by showcasing the kind of quality that has never been associated with the continent and can compete favorably on the global stage."

"We are building a brand that will change the narrative about Africa and Africans and portray us as a people with a beautiful heritage, rich culture and strong positive values."
4. Can you tell us more about your universe?
"All Epoch Comic titles are linked in a universe and they share the same overarching story. There's a supernatural story to every character and title, though it's more evident in some than others. All characters in the Epoch Universe draw their source of power from the supernatural realm. Heroes (Extranaturals) are those who have harnessed these powers for good. They vary in attributes. Some fall into the category of superheroes (like Moondust) and their metaphysical aspects are less obvious than others."

"Villains too (also called Extranaturals) just like heroes derive their essence or powers from the supernatural or extra-dimensional realm. They also feature as supervillains in the superhero and dark context in some of the most more clearly supernatural."
5. How are your comics and graphic novels found?
"Our comics are available on different platforms, but the primary way to get is from our website www.epochstudios.co/comics. Our comics are also available on Amazon and Comixology. You can also download the House of Comics and read all our comics for free. Follow us on Facebook, Instagram, Twitter, TikTok @epochcomics.
In Part 2 of our interview, we dive into the Epoch universe, titles, and Martin's favorite pick(s) for Epoch comic book movies and TV/streaming series.