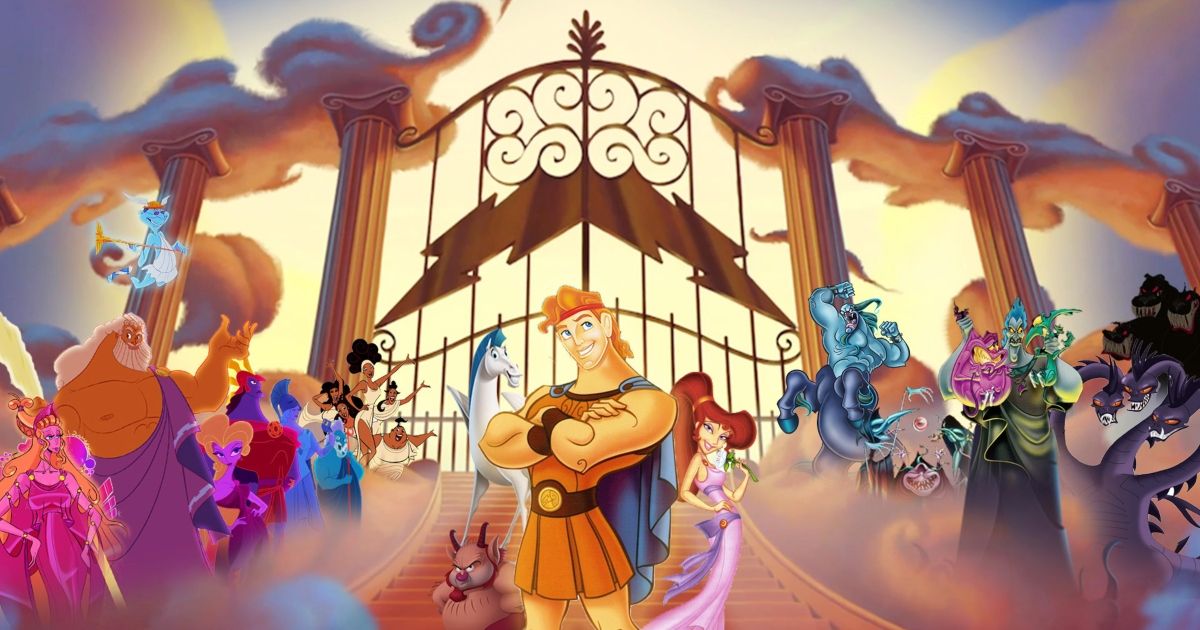 1997 was a big year for the film industry, and the children's genre was no exception. Ron Clements and John Musker, the brilliant directorial duo behind productions such as Aladdin and The little Mermaidscripted, produced and directed Hercules, the animated classic inspired by Heracles, the son of Zeus. Disney's 35th animated feature centers on the mighty Hercules, son of the gods Zeus and Hera, who, shortly after birth, is kidnapped by Hades, the evil brother of Zeus, deprived of his divine right, and sent to Earth, aiming to pave the way for Hades to conquer Mount Olympus in 18 years. Now mortal but endowed with his supernatural strength, Hercules must work hard to become a hero in order to regain his rightful place on Mount Olympus.
In April 2020, Walt Disney Pictures revealed plans to develop a live-action version of Hercules, with Joe and Anthony Russo as part of the production team and, per Digital Spy, Guy Ritchie as director. Die-hard fans are waiting for news of this live-action, theorizing all over social media which actors would be suitable to portray each character. Meanwhile, the producers said they were taking inspiration from the original film, while giving it a modern twist by incorporating new elements. Without a doubt, one of the most intriguing elements to contemplate in the upcoming film is how they integrate the songs – if they choose a musical route – keeping in mind how fundamental the music was to the story of the original film. Although Hercules' was quite underrated historically, it's truly one of Disney's most enjoyable and, moreover, complements each character's story beautifully. This article gives an overview of all the songs of Hercules' soundtrack.
6

one last hope
Phil is one of the most charming characters in the film, brought to life by Danny DeVito. Phil was the trainer of would-be heroes who, over the course of his career, were let down by every one of his trainees. When Hercules first came to visit, instructed by his father Zeus, Phil had already given up on his coaching days, saddened that he would never achieve his dream of seeing one of his trainees triumph. . And yet, on discovering the young man's origins, he decides to cling to his last hope and take one last chance to realize his dream of forming a true hero. "One Last Hope" is the song that sums it all up, his hopes and dreams, and comes with a scene in which Phil subjects Hercules to a myriad of physical and mental challenges, where the audience can also appreciate the youngster's growth. apprentice.
Related: Who Should Be Cast For Guy Ritchie's Live-Action Hercules?
5

A star is born
"A Star is Born" is the song that follows the happy ending Hercules (Tate Donovan) got after a journey filled with adversity. After risking his life to save Megara from the Underworld, Hercules became a hero and thus regained his divine status and his rightful place on Mount Olympus. At this triumph, the Muses performed this song while gods and humans cheered Hercules, who was able to reunite with his adoptive parents and watched excitedly as Zeus formed a constellation in the sky for him. In addition, Phil also managed to realize his lifelong dream, because in front of this new constellation, a townsman recognized Hercules as "Phil's Boy".
4

zero to hero
It's one of the film's most iconic songs and marks the moment Hercules transformed from an outcast and mocked young man into a hero. After defeating all the monsters that Hades put in his way during his stay in Thebes, the public was able to witness, thanks to the story of the Muses, the evolution of Hercules, who became famous and became a presence in all over town, with statues and merchandising. . Her parents even learned of her newfound fame and bought a vase with her face on it. However, as the triumphs of Hercules increased, the frustration of Hades, who was totally furious and in a hurry to get rid of the hero in order to conquer Mount Olympus, grew.
Related: Here Are 5 Of The Most Underrated Disney Movies
3

The truth of the gospel
"The Gospel Truth" is a three-part song performed by Calliope, Melpomene, Terpsichore, Thalia and Cliolas, better known as the Muses, five characters who steal the show every time they appear on screen. The first part of the song introduces life on Mount Olympus, opening the story of Hercules. Part Two focuses specifically on Hades, the iconic King of the Underworld, and while retaining the essence of Part One, it has a much darker and darker vibe, reflecting the character in question. The final part focuses on the film's main conflict, with Hades dooming Hercules to become human and banishing him from Mount Olympus.
2

go the distance
"Go The Distance" is certainly the most memorable song from this animated classic, and the one that best captures the essence of the character and his struggles to find the place he feels he belongs. At the start of the film, Hercules was discouraged and sad, clearly feeling that he did not fit in with his people. Something in his gut told him that he actually belonged somewhere else, and the lines of this song express how willing he was to travel the distance to find that place. Moreover, in the middle of the scene, Hercules discovered his true origins, and after speaking with his father Zeus, he embarked on an adventure to become a true hero and regain his rightful place on Mount Olympus.
1

I won't say (I'm in love)
"I Won't Say (I'm in Love)" steals the top spot on this chart as one of Hercules' most beloved songs and, above all, for its energetic and fun beat. Performed by Megara (Susan Egan) and the Muses, the song followed Meg and Hercules' date in which she attempted, coerced by Hades, to find her weak spot. However, she had great difficulty enacting the plan as there were definitely emotions involved. After the date was broken up by Phil, Hercules gave him a flower before he left, leading to this song in which the Muses attempted to impress Meg on her feelings for Hercules, as she completely denied. Eventually, she stopped denying her feelings, but said she wasn't going to voice them out loud.