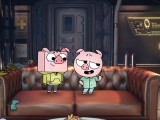 This year, Cartoon Forum will present nearly 90 projects from 21 countries, including France, Ireland, Germany and Portugal.
Of the 140 projects submitted to the annual European pitching and co-pro event, 84 – representing 457 hours of content with a total budget of $ 387 million (€ 326.1 million) – were shortlisted. They will be presented at the 32nd annual Cartoon Forum, to be held in Toulouse, France, September 20-23.
Animation targeting children aged 6 to 11 makes up almost half of the shortlist (41 projects), followed by series for preschoolers (25), young adults (14) and family audiences ( four). Regarding style, 56% of projects are animated in 2D (up from 65% last year) and 28% are in 3D / CG (up 8%).
Adaptations continue to be popular, with nearly 20 projects based on comics or books. These included Blue wolf from the French label Anim and Freddy Buttons Wacky Mysteries of Treehouse Republic in Ireland.
France leads the pack with 33 projects headed to the festival, followed by Ireland with 11, Germany with eight, Spain with six and Belgium with five. Portugal, the Czech Republic and Denmark send four each, including three from Italy and Poland. Almost 40% of the projects are co-productions between two or more European countries, and Canada is the only non-European country to participate as a co-producer.
There are no UK-led projects this year due to the government's decision in 2020 to cancel its participation in Creative Europe MEDIA following Brexit. UK companies are allowed to attend the event as participants, buyers or co-pro partners on projects. Only one prodco in the region, Lupus Films, is participating this year as a co-producer.
Well-known studios that will be heading to Toulouse to pitch in September include Kavaleer Productions (Adam Rek & Nola) and Xilam Animation (Pig builders). The German film Dreamin 'Dolphin (Hygge) and Danish MiniCosmos (Space ham, in the photo) are among the emerging prodcos who present themselves as novices of the Forum.
If all goes according to plan, Cartoon Forum will welcome participants in person, making it one of the first international European festivals to revert to a live event format. The Annecy Animation Festival, which ended last week, reported that 4,000 on-site attendees were in attendance at its hybrid event.