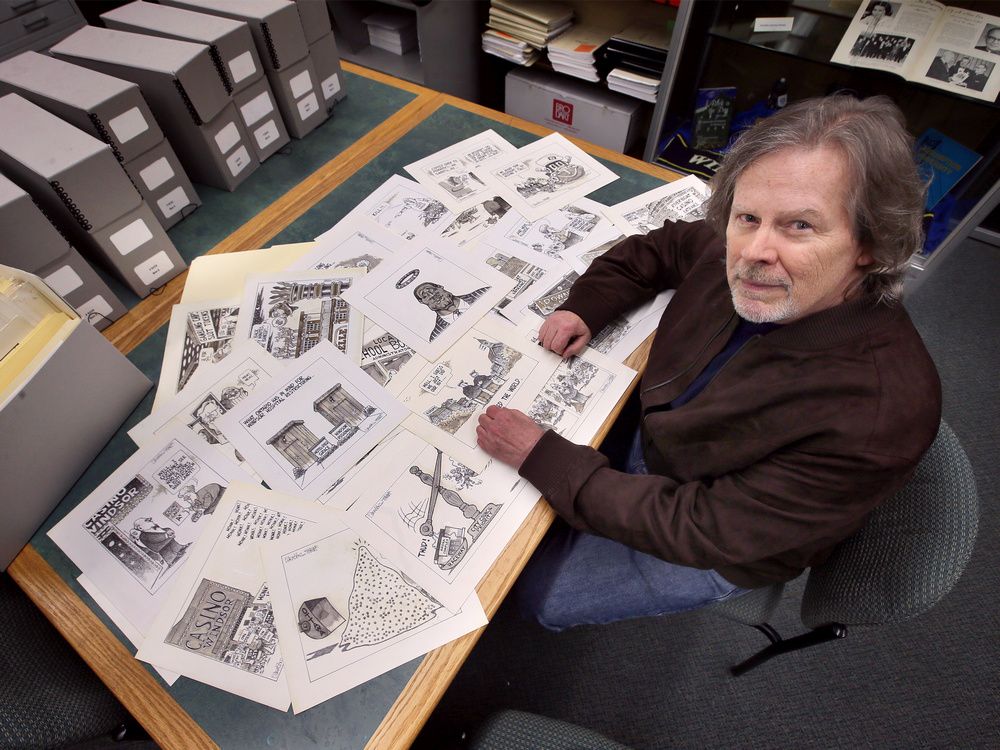 Content of the article
Crime, controversy and corruption – Mike Graston had a lot to do.
Content of the article
The artwork he spent nearly four decades creating, documenting history with a twist as editorial cartoonist for the Windsor Star, will now be preserved for posterity.
Content of the article
The retired artist donated more than 2,600 of his original pieces to the University of Windsor, which is committed to making them accessible and preserving them in perpetuity.
"That's pretty cool," Graston said. "Your children's children will see them. I have always been a history student. It was my favorite subject in high school. I have an honors degree in history. I think that's fine. The work that I was doing, I was kind of part of the story and I was doing lively opinion pieces about what was going on in our society at the time.
For 36 years, perched on his ink-stained drawing board, Graston documented, celebrated and condemned our defining social, cultural and political moments.
Content of the article
This is probably the funniest thing we have in the archives
He channeled our grief after horrific tragedies such as 9/11 and the Sandy Hook school shooting.
It commemorated skewered heroes and villains. He made sure the arrogant and powerful knew they were responsible, and he laughed at them.
But the more than 2,600 cartoons now in the possession of UWindsor's Leddy library don't represent all of Graston's output. Much of his work is held at the National Archives of Canada.
He also kept a few that were too hard to let go, including some with his children. And there were many who didn't make the cut, he said.
The cartoon collection he gave to UWindsor spans from 1981 to 2016. Graston actually started at the Star in 1980, but said there wasn't much from that first year worth worth preserving for posterity.
Content of the article
The possibility that each of his cartoons wasn't a historical gem is something Graton wishes he had considered sooner.
"When I did the National Archives, I wasn't as picky about what I gave them," he said.
He later realized that some of his not-so-stellar works — he has a less family-like way of describing them — would be preserved for hundreds of years.
"It was a tougher selection process for the university," Graston said. "I probably ended up throwing away hundreds and hundreds that I just didn't want to have in 200 years."
Despite this, the largest collection of his work is now in the Leddy Library at the University of Windsor.
"It's probably the funniest thing we have in the archives," said Sarah Glassford, Archivist of Archives and Special Collections at Leddy Library. "We have a lot of fun stuff here, but as a collection it's the funniest and in some ways the most emotional. And quite unique in terms of the number of artworks we have, both physical and digital.
Content of the article
Graston said he is happy to know that his life's work will be accessible to generations to come.
"The availability is going to be much higher than it was before, which is in protective boxes in my house," he said.
"Students can use them, teachers can use them, the public can use them. In a hundred years they might have an exhibition of original cartoons.
University of Windsor librarian Selinda Berg said the artwork would be available in the archives, but added that the university also intended to feature it in special exhibitions.
The first begins next week at Windsor Armouries, home to the university's School of Creative Arts. The free show, titled Mike Graston's Editorial Cartoons, 1981-2016: History has it Happened, is open to the public from November 16-27.
Content of the article
Berg, who is not from Windsor, said it was eye-opening to learn about Graston's importance, the "magnitude" of his collection and what it would mean for the university and the city.
"When I told people we were getting this collection, the excitement is absolutely incredible," she said. "Always it's followed by a story about their favorite cartoon, their favorite cartoon, the one that resonated with them, or just the process of going into the newspaper and looking at it. It's amazing how much this resonates with individuals.
In addition to being more widely accessible, the coins will also be protected.
For several years, Graston has worried about a burglary or a fire every time he leaves his house. The cartoons are now stored in a vault inside the Leddy Library Archive, where even the air is subject to strict quality control.
Content of the article
"These will last a few hundred years if we put them in acid-free folders, acid-free boxes in our climate-controlled safe," Glassford said. "The temperature and humidity are carefully maintained within a certain range."
Berg said it's "exciting" to see the university playing a bigger role in preserving and promoting such historical records.
"I think it presents history in a really unique way through the eyes of someone from Windsor," she said. "I think the contribution to the university as a whole is really important with the ability to support research and teaching across the university. I am truly grateful that we have the opportunity to keep this collection in Windsor.