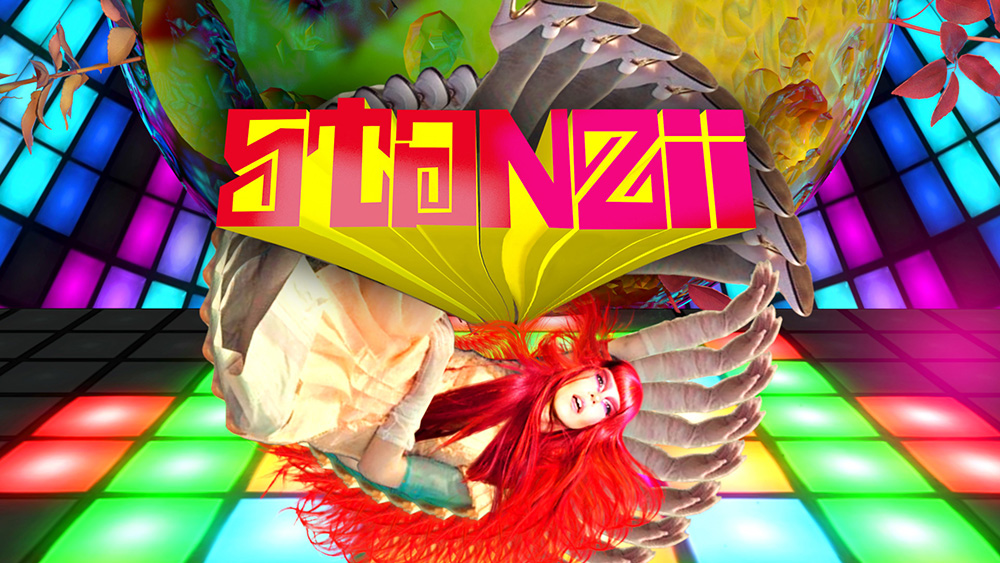 Stänzii, a radical artist whose work has graced spaces in New York for more than a decade, has announced the release of three kaleidoscopic and cyber-chic animated films, which signal the upcoming arrival of her eponymous brand, planned for the next year.
In addition to serving as a digital teaser, the triptych – which includes the retrofuturistic films "Spiritual Maximiliiism", "Theme for Dead Cities" and "Self Saboatge" – reflects love, loss and an urgent, post-pandemic need for Stänzii : making art after a time when it seemed impossible. It's an emotional first taste of Stänzii as she embarks on a large-scale pop fashion brand that will integrate her expertise in shoe design, sculpture-making, street art and more.
"I've been making art my whole life, and my creative journey in New York has involved everything from exterior murals to high-end creative direction and big fashion showcases," says Stänzii, who was born Renée Snelson and has also gone through XORS in previous projects, many of which involved the collaboration of her longtime partner, Flood. "The Stänzii brand will be both commercial and counter-cultural – a highlight of my art that will bleed into the worlds of public art, wearable fashion, print and digital media."
Featuring original music produced, mixed and mastered by David Sisko under his nickname Aelien Eko, the films are reminiscent of David Bowie, Warhol and punk-rock feminism, and are composed of recurring elements that signify vision and voice. distinct from Stänzii. High heels with pointed studs, diamond tears and whimsical blinking eyes appear in the digital landscapes and will be hallmarks of the Stänzii brand.
"As an artist working in the underground and luxury fashion worlds of this city, I have always been drawn to the push and pull of materialism against spirituality, ego against art and research. constant of ourselves in this urban jungle, "says Stänzii. "Today, I believe all of these things can coexist, and my brand will bring those dichotomies to life."
In the past, Stänzii has been a designer and artistic director for major footwear brands such as Timberland, Vera Wang Lavender and Alice + Olivia, where she worked as senior director of shoe design. His stunning commercial sculpture has been seen by millions in the windows of department stores like Macy's and Bloomingdale's, while his iconic "Killer Heel" design has moved from street art to art galleries in New York and London. She has been featured in art exhibitions curated by Patricia Field and has collaborated with the late and legendary shoe designer Beth Levine, using Levine's vintage shoes to create wearable art for an exhibit in the East Village of New York.
As she embarks on her next chapter, Stänzii will gradually roll out a genre-blending brand that distills her work into a cohesive yet comprehensive collection of products and art, spanning all media platforms and reflecting the cultural consumers of constantly evolving today.
"My art deals with contradiction, which is also one of the determining factors of modern consumers," says Stänzii. "We want streetwear and fine art prints; we want glamor and courage; we want the sequel and what is nostalgic. With my personal and feminine approach, the Stänzii brand will overcome these contradictions in a whole new way.
Stänzii's new animated films can be viewed at the following links: