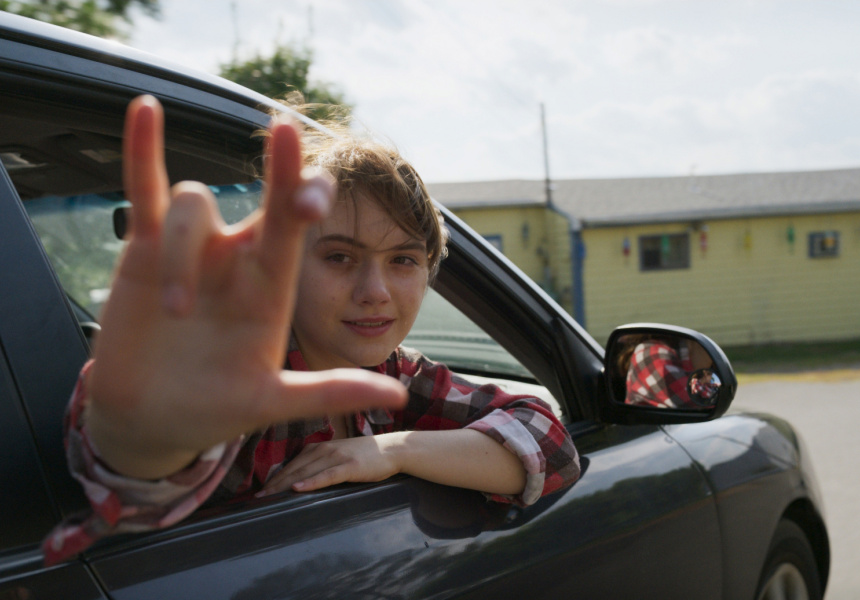 We're at the end of awards season, with the 94th Academy Awards taking place on Sunday, March 27 (US time). We've picked out plenty of Oscar-winning movies from past Seen on Screens, but there are so many great ones to see that we've picked out a few you might have overlooked. There's also a gory comedy that's anything but a Disney romance, Ben Stiller's quirky series, local musical doco, and a beautifully shot monochrome film to lose yourself in. Here are our picks of what to watch right now.
For a poetic stroll: drive my car
Picking up awards around the world, director Ryusuke Hamaguchi's calm, poetic and layered film drive my car is the first Japanese film nominated for Best Picture at the Oscars. If it wins, it will be the second foreign language film to score in this category after Parasite in 2020. Former POTUS Barack Obama also hailed it on his list of favorite movies of 2021 — and we couldn't think of higher praise. So what is it? It is based on a short story by Haruki Murakami of the same name. Two years after his wife's death, a guy named Yusuke meets a young woman named Misaki. She is made Yusuke's chauffeur, and as they spend more and more time together in his red Saab, they reveal themselves more. It's a meditative and absorbing film, but it's also long and slow. Settle on a rainy arvo for this one. In cinemas.
For gorgeous, gorgeous gore: Costs
Sebastian Stan (better known as Marvel's Winter Soldier) and Daisy Edgar-Jones (normal people) make a great couple. And if you watch just the first 30 minutes — before the credits — of this Disney+ thriller, you'll feel fulfilled and hopeful in the wild world of dating apps. But this is not a Disney princess story. It's a funny and scary thriller about harvesting human meat. And yes, we said "funny". Written by Lauryn Kahn and directed by Mimi Cave (her feature debut), the script seamlessly takes you from tension to silly choking on your popcorn. The film premiered at the Sundance Film Festival in January, and it will reinvigorate your appetite for dark, comedic horror, even if it keeps you from dating. Stream it on Disney+.
For a heartbreaking reality: To run away
For about four years, filmmaker Jonas Poher Rasmussen interviewed his classmate about being an Afghan refugee in Denmark. The French-Danish filmmaker asked his friend to close his eyes during the dozen interviews to remember what it was like to leave his childhood home, travel by boat and arrive in Moscow, later in Denmark, looking for a home. It's beautifully animated so Amin (a pseudonym) can remain anonymous and also peppered with real 80s and 90s news footage. In it, Amin shares a heartbreaking secret he's kept for 20 years. The documentary is nominated for three Oscars: Best International Feature, Best Documentary Feature and Best Animated Feature. Hear from executive producers Riz Ahmed and Nikolaj Coster-Waldau, whose voices feature in the English version. In cinemas.
For captivating and bizarre television: Breakup
Who hasn't wished the 9-to-5 drama would fade away when they step out of the office? For employees on a specialized floor at Breakup's Lumon Industries, they're living that so-called dream work-life balance. Every time they get on the elevator at work, their memories of the day fade away. The same goes for memories from their non-work lives – they just can't access them during work. One of the most talked about workplace dramas of late, Breakup taps into our "always on" anxieties at work and adds some existential spice. Apple TV+'s satirical thriller unfolds over nine episodes, and while it gets off to a slow start, the jaw-dropping premise builds over time. Directed by Ben Stiller and Aoife McArdle, the stellar cast includes Adam Scott, Patricia Arquette and Christopher Walken. vogue called it "the great resignation thriller," and we think that nails it. Stream on Apple TV+.
For baby-swapping dramas, Almodóvar-style: Parallel mothers
In Pedro Almodóvar's 22nd feature, Penélope Cruz plays successful magazine photographer Janis, who unexpectedly becomes pregnant after a short affair with one of her subjects, the anthropologist Arturo. After deciding to go it alone, she meets young single mother Ana (Milena Smit) in the delivery room and months later they reunite. The lives of these mothers intertwine and they become lovers. In true Almodóvar fashion there are secrets, great passions and lots of bright colors. It's not the bombastic Spanish director's style you might expect, say, broken hugs or his first films, but Parallel mothers has that warm embrace of her visionary worlds — one that helps suspend disbelief in the baby-swap narrative, at least. It's probably more political than his usual style, and the film is all the better for it. Cruz's performance is nominated for Actress in a Leading Role at the Oscars. In cinemas.
For Oscar-Worthy Kindness: CODA
In the running for Best Picture, one of last year's streaming gems, CODA, which means "child of the deaf adults". It's a comedy-drama that will really hit you in the feels, and it's one that's considered more accessible than Jane Campion's. The power of the dog, its biggest competitor in this category. In the film, 17-year-old Ruby (Emilia Jones) is the only hearing person in her family. She and her high school crush join the choir club and along the way, she discovers a talent for singing. It's a tearjerker – and if that sounds familiar, that's because it's the English-language remake of the 2014 French film The Aries Family. It's not the only film nominated for an Oscar to feature sign language, but if Troy Kotsur wins Best Supporting Actor, he will become the first deaf man to win one, following the historic victory of co-star Marlee Matlin 35 years ago. Stream on Apple TV+.
For something charming: go! Go on
Adult-kid buddy movies can be sentimental, cutesy, or just below the mark, but go! Go on starring Joaquin Phoenix and Bafta-nominated Woody Norman manages to strike the right tone of charm and emotion. Phoenix plays a reporter named Johnny who ends up caring for his nephew Jesse (Norman). The couple travel to New York and although things start off badly, they become more and more connected. Writer-director Mike Mills chose to make the film in black and white to give it a fable quality. He also said it would help the public take the child more seriously. It certainly makes for a beautiful film to get lost in. The British Telegraph called it a "big bear hug wrapped in celluloid". In cinemas.
For Tilda Swinton and Richard Ayoade: Remembrance Part II
The beauty of filmmaker Joanna Hogg's two-part autobiography is that you don't have to see the first to appreciate the second. In fact, it's completely different in tone. It also has a scene-stealing caricature played by Richard Ayoade, who is so OTT that it keeps you guessing who this character could possibly be based on in Hogg's real life. The story follows Julie, played by Tilda Swinton's daughter, Honor Swinton Byrne, as she makes her graduation film. There are plenty of film student digs, which are a welcome light relief from some of the darker scenes. It's also a bit of a love letter to cinema. Tilda Swinton's role as Julie's mother gives her a nice layer of familiarity. And since Tilda was also in Hogg's 1986 graduation film, there's an added burst of nostalgia too. In cinemas.
For exceptional performance: Belfast
Some critics adored Kenneth Branagh's sentimental black-and-white film about his childhood in Northern Ireland. Others called it sugar coated and unrepresentative of the troubled history of the Troubles. Both parties agree that this is a tender film with good vibes and an outstanding cast. First there is Caitríona Balfe, who is fascinating as the mother of little Buddy. Buddy is played by 11-year-old Jude Hill, who has won several awards for his breakout performance. Jamie Dornan plays his Pa, who is offered to work in England. Judi Dench and Ciaran Hinds are Buddy's adorable grandparents. It's a story of hope in a time of conflict, written during the Covid lockdowns. He is also up for a string of Oscar awards. In cinemas.
For behind the scenes: anonymous club
Shot on 16mm film and filmed over three years, documentary anonymous club takes us behind the scenes of singer-songwriter Courtney Barnett's live tours before the pandemic. It's called "quiet doc rock" in the sense that we follow Barnett's life on the road, but as you'd expect from the Melbourne-based musician, there's no not many TVs thrown out of windows – it's more outspoken and vulnerable than that. Early feature film director Danny Cohen shows her struggles with fame, loneliness and confidence in her chosen career. It's also an intimate look at what life was like as a touring musician before we were hit with the capital C. Read Large formatthe exam. In cinemas.
To escape to Naples: God's hand
This autobiographical film by writer-director Paolo Sorrentino (The great beauty) is anything but sentimental. It's full of family chaos – each person with their own flaws and quirks. It's beautiful – set in Naples in the 1980s. It's filled with unexpected moments – a city famous as footballer Maradona scores a goal on TV. And there is also sadness, which we will not spoil. It won the Grand Jury Prize at the 78th Venice Film Festival and is also up for an Oscar. Press play on this one on a rainy afternoon to feel completely transported. Stream on Netflix.